Okay ladies, I've got some great news! I will be hosting a very special event along with the ladies of Lush and hair/makeup artist, Cindy Luke! The first 30 ladies to RSVP will be able to enjoy their close up with me along with a mini make consultation with Cindy for FREE. The ladies of Lush will be there as well for all your Valentine's day passion product needs.

Here is the promotional flyer: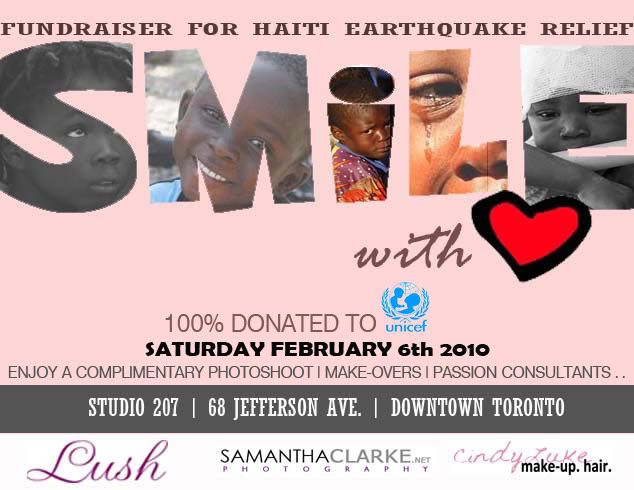 Check out the Facebook event info here:

Enjoy this Saturday afternoon with make-up and a mini photo shoot hosted by the ladies of Lush; lifestyle photographer - Samantha Clarke; and make-up and hair artist, Cindy Luke.

The Valentine's season is upon us and what better way to prepare for the day of love than to take part in your very photo shoot!?

Round up your girlfriends, bring your hottest outfits, and get ready to smile and strut your stuff for your closeup! We are here to help you look and feel your best.

As you know, the children of Haiti still NEED our help. We will be accepting donation denominations of $10 to $100 for the Haiti Earthquake Relief Fund.

100% of your gracious donations will be given to UNICEF.

The first 30 ladies to RSVP will enjoy:

~ A mini-makeup consultation with Cindy Luke.
~ A fab mini photo shoot with Samantha of Samantha Clarke Photography.
~ A short passion presentation with the ladies of Lush.
~ Light refreshments, some R&B, and a positive atmosphere with strong independent ladies just like YOU!

Please RSVP with the names of your group of girlfriends as soon as possible via email to sam@samanthaclarke.net
or
via phone 416-554-5291.